When it comes to the dangerous and troublesome animals that affect your home life, many people probably don't think of "birds." However, this is an animal that brings more trouble than you think. With a gentle and beautiful appearance, they make people despise the troubles they bring.
In the face of such problems, people begin to look for answers to the "how to get rid of birds" question. Like many other annoying animals, you need to equip yourself with the basic knowledge to be able to deal with this intelligent birds. How to keep birds away from house is what we will bring to you through this article.
What damage can birds cause?
Not every bird destroys a person's life, but not all are harmless.
Almost all birds cause damage to crops and fruit trees in your garden. This is probably the most common bird damage. Your fruit will not be intact after every bird visit and you may not be able to enjoy a full fruit season. Birds mostly live in trees and they can fly wherever they want, and the fruits at the farthest end cannot trouble them.
Besides destroying fruits and crops, birds can also transmit diseases and pests such as ticks, fleas to pets and even humans. The viruses that birds bring, threatening human health can be mentioned as West Nile virus or Salmonella. There are also a number of other infectious diseases through bird droppings and saliva.
Some disturbing species, such as starlings, also threaten the lives of other gentle native birds such as woodpeckers. Some attack smaller sized harmless birds for territory and food. They will turn your garden into a noisy battle and difficult to control.
Even if they do not harm crops or other animals, they cause many other problems. Surely you don't want the car or the roof full of bird droppings. Cleaning up the consequences is not easy and it is not a job that everyone voluntarily does. Moreover, a difficult-to-reach location such as a roof is a hassle to be cleaned regularly.
How to control birds in your garden?
Controlling any pests is not easy, as is the case with birds. How to keep birds away from your garden is one of the tough questions because they are so many and they are very intelligent. Precisely because birds are so smart, the tactic to scare them seems never enough. Birds can quickly adapt to a scary type of stimulus that lasts for days, so you should constantly change those types of scary stimuli to get the best effect. Some common fear tactics include sounds, statues, and decoys.
In a large space like a garden, you should combine the tactics of fear along with other measures. How to stop birds from nesting on your porch? The simplest measure is to prevent bird nesting by checking garden areas and destroying any potential bird sanctuaries. Start by blocking the vents with a cloth, as this can help them avoid sun and rain most effectively. Next check the bushes, trees and awnings and destroy whatever bird nest you find. If you can't find a nest, birds will visit your garden less often which means less trouble.
To prevent birds from ruining the garden, you can use netting around the garden or plants that the birds find attractive. However, you should pay attention to the use of strong nets, small meshes to prevent birds from breaking through them. This is an effective preventive measure but it will be troublesome when you take care or harvest the plants. It also helps you to prevent other animals from harming your crops.
Besides, you can use repellents to prevent bird infestation, but this method should only be used for large areas with lots of trouble birds. These types of homemade bird repellentare always a top priority if you are intending to use this method.
How to get rid of birds?
Here are the methods to help you get rid of bird trying to get in house, we will guide you in the most detailed way so that you can choose for yourself the most appropriate and effective method.
#1 Use statues:
Using statues is the most common method of preventing bird invasion. Statues of ferocious animals are more commonly used such as eagles or owls. Do you place the statues in the center of the garden or between plants. Birds won't dare come close to your home if they see the appearance of predators that will eat you.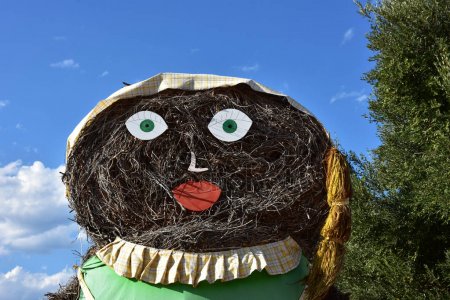 Eagle or owl statues are usually made from some lightweight materials like plastic, but there are also many made of metal or (for decoration). They are all made in real size and decorated exactly like the model so it can easily trick the birds trying to invade the garden to find food.
Some statues are provided with extra screw holes to fix the position, some not. In order to secure lightweight statues like this, you should fill them with stone, sand or materials of similar weight. Because they are quite large in size, if you do not fix them, the wind will do its job.
No matter which animal statues you use, fixing is most important, it needs to stand up to any impact of the weather.
You can combine the use of statues with sounds to threaten birds, which will increase efficiency and create a more realistic feeling. However, it should only be used if it does not affect other households.
However birds are very intelligent animals, so you need more tips on how to place statues to maximize the effect.
Some brave birds will not leave as soon as they see an owl or eagle, but will instead spend time passing by predators. It won't take long for them to realize that predators are not a threat because they are no longer alive. Therefore, you should move the statue around every day to fool the bird. The constant change of position will make the bird feel more authentic and alert. Using two or three statues is better than a lonely statue. Many threats are better for chasing birds out of your home area.
Another secret is to occasionally store a statue if you are displaying two statues in the garden. When a bird sees a predator instead of the usual two, it will become more alert because it thinks that another bird is hiding somewhere to suddenly attack itself. So it will not dare to enter your garden to preserve life.
#2 Use bird spikes:
Bird spikes are also one of the things that many people use to prevent bird infiltration into their garden. Bird spikes are sharp spines that can damage birds once they try to land. Spikes are usually placed on fences, roofs, porch or tree branches, etc. in short, where birds often land.
To increase efficiency, you should fix them to increase the damage. This is a physical threat that you do not need to change often every day or after a period of use. They should be fixed on stable and stable surfaces with silicone sealant or other strong adhesives.
However, place them in places where cats or other animals are inaccessible to avoid injuring unwanted animals.
#4 Use bird repellent:
Using repellent is the last method to get rid of bird that you should use after experiencing other ineffective methods. When using repellent will cause certain effects on the surrounding environment so it should not be recommended by experts.
Repellents are often used to eliminate large birds such as pigeons and some other birds. You can make your own homemade pigeon repellent or ask for help from a local insect exterminator.
As mentioned above, you can also combine the use of repellent with other methods to maximize the efficiency. The methods that can be combined with the reflex method (using reflective devices to confuse the bird), combined with poison bait, ultrasonic bird repellents or bird deterrent sound.
Currently on the market there are many different types of bird repellents used to scare birds or destroy them. The most common bird repellent that you can easily find is affecting tactile, taste, visual and mechanical.
In that kind of chemical repellent bird repellent is usually in the form of gel or spray. It creates an uncomfortable feeling, affecting the temperature in the leg or body resulting in an incorrect location of the landing. Once birds can't feel the temperature of their feet exactly, landing exactly on them is impossible.
Anti-taste agents are usually in the form of sprays, which work on plants and fruits to make them no longer attractive to birds. This substance is not harmful to birds but directly affects their food source. So they will find a new area with a more attractive source of food instead of sticking to the plants in your area.
Other repellents may be more toxic so they should be controlled and carried out with expert help. Certainly will cause environmental impact and inhumane death for birds so you should consider carefully before choosing.
Homemade bird repellent is often a combination of foul-smelling natural substances that make the bird feel unappealing, away from your home. However, because it is natural, it is not as effective as other substances and requires you to do it often to keep the scent long and continuously. You can also use the urine of predators to spray the spot where birds often go to chase them.
#3 Use bird trap:
Can't help but mention bird traps when you want to find how to keep birds off your porch. Currently there are many types of bird traps of all shapes and sizes that are widely sold in the market that you can easily find.
Some are designed to trap large birds like pigeons, some are smaller to trap and hold small birds like sparrows. Some are designed to trap one bird at a time, but some can hold dozens of birds at once. Whatever kind of trap, you should know the basics so that you can get the most out of each trap.
The most basic thing about bird traps is the bait. You can buy traps sold at pet stores or online, or you can use any kind of nuts and berries in your home as bait. Fortunately, the bait to trap birds is not as complicated as many other animals, and they are not picky eaters. Just make sure to clean up any fruit that falls on the garden or under a tree so the bird can no longer find a source of food other than the food in the trap.
Besides, you should not use too much bait or large size bait to avoid birds can easily eat prey without touching the trap. Traps should be placed on flat areas where birds often land to increase the best effect.
It may take a few days for the bird to get used to it and be less alert to the trap so don't give up as soon as the trap is inactive after a day. Persistently repeat the steps to set traps and clean up other food sources. Setting 2 or 3 traps at a time is also a method you should take to try to trap many birds in a short time.
If you do not want to kill those troublesome birds, you can use live catch traps to release them to the wild. However, the location of the bird release must be at least 500 miles from your home (further than other animals because the bird can travel a long distance easily). Especially pigeons, this is a species that can find its way back to your home far further than other birds.
Some of the smaller birds may not fly as far as a dove, but you should also make sure to release them in a place where you cannot easily return. Take some time to move if you do not want those troublesome birds to return to your sewer.
Some people may choose an alternative method to eliminate trapped birds by drowning. However, that method is quite inhumane in my personal opinion.
#6 Combination of methods:
Have you ever thought of combining methods together as a solid multi-layered defense wall to prevent bird infiltration? This is a basic concept and an effective method, although it takes a lot of time and effort but its effect is worth your investment.
Combine the methods I've introduced to you above to create multiple layers of firm defenses for your garden. Those methods, if used separately, may not be perfect, but if you combine those imperfections together, the result will surely satisfy many people.
The outermost defense layer can be ultrasonic repellers, because they are at the top position that can affect large numbers of birds. This first layer of defense will remove a significant amount of bird once activated it. After going through this defense class, some birds can leave, some persevere to enter but the number has decreased significantly.
These persistent birds, after passing through the first layer of defense, will encounter the second layer of defense, which is statues of eagles or owls. With a lower elevation, the second layer of defense will cause the birds to panic and stagger around the garden area.
Now it's time for the third class to be bird spikes or bird traps. They will be trapped and destroyed by this final defense. Once the number of birds has been reduced through the defensive layers, the last class will have a higher success rate than normal.
Therefore, you should take some time and effort to arrange and create defensive layers for your garden from troublesome birds. You can also replace those defenses with other devices that you consider to be effective, which is just our basic example for you to better understand how to combine methods.
#5 Use ultrasonic repellers:
Ultrasonic repellers may sound strange to many people, but it is an increasingly popular item to prevent the encroachment of many pests.
This is a product that works on making bird deterrent sound to keep animals out of your home. Dealing with a smart animal like a bird, ensuring 100% success is not easy but it also fulfills its ability and role. You can find them easily at pet stores or online shopping through e-commerce sites.
You can understand ultrasonic repellers in a simple way like this, they work by making sounds at high frequencies above 20 kHz to expel pests from the living area. This sound exceeds the threshold for human hearing and is quite similar to police car horns, extremely uncomfortable. Any animal can not tolerate such high frequency sounds, of course the only thing they can do is run away from that noise instead of continuing to penetrate.
How to repel birds by ultrasonic repellers?
Its position is the deciding factor. First, you need to know where you should put this device to ensure it works best. Birds are airborne species so the location of equipment is as high as possible. Once the birds land on the ground, chasing them will become more difficult.
The convenient location to place the main unit is on a tree or on a roof. Try to place them as high as possible to prevent bird infiltration in the first place.
Some devices require a long wire to run, it will be dangerous for a long time to use because of the impact of the environment. So you should choose solar powered devices to avoid unnecessary trouble.
You should position the devices so that they produce a sudden noise, a constant annoying sound will not be as effective as a sudden sound. So do not arrange their coverage area, instead, put them far enough apart so they can make sudden and not muted sounds at the same time.
Imagine an unpleasant sound produced suddenly from one direction and then a few seconds later, a sound from another direction will cause a bird to panic, surely it will no longer dare to continue. Hacking into your home to find food.
Besides, you should also place the device on a solid base layer to help sound spread the widest possible. Improve sound by rotating the back of the device against walls or trees around.
However, you should pay attention to other households to avoid disturbing them by these unpleasant noises.
Conclusion
Do not rush to assess the danger of birds through their small and lovely appearance, they are one of the most troublesome animals that can turn your home into a living area and especially cannot be easily removed. Therefore, you should equip yourself with the most basic knowledge to be able to deal with this intelligent animal. Unlike many other troublesome animals on the ground, you need a different tactic to be able to deal with these aerial animals.
Please persevere until you achieve satisfactory results, birds are a difficult opponent to confront so hopefully with the information we give, you can eliminate this small animal trouble.